Apologies for not getting this completed and posted yesterday. SBNation only just let me in through Facebook.
I've gotten done with 8 of the countries in the Euro's so far. We're half way there with 8 days to go. And now, I bring you RUSSIA!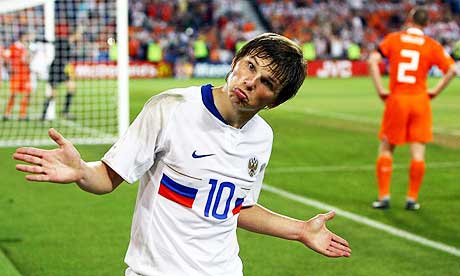 Euro Group A
(You can click on the nation to see the previous posts)
Russia
Goalkeepers: Igor Akinfeyev (CSKA Moscow), Vyacheslav Malafeyev (Zenit St Petersburg), Anton Shunin (Dynamo Moscow).
Defenders: Alexander Anyukov (Zenit St Petersburg), Alexei Berezutsky (CSKA Moscow), Sergei Ignashevich (CSKA Moscow), Roman Sharonov (Rubin Kazan), Vladimir Granat (Dynamo Moscow), Kirill Nababkin (CSKA Moscow).
Midfielders: Igor Denisov (Zenit St Petersburg), Roman Shirokov (Zenit St Petersburg), Konstantin Zyryanov (Zenit St Petersburg), Yuri Zhirkov (Anzhi Makhachkala), Alan Dzagoyev (CSKA Moscow), Igor Semshov (Dynamo Moscow), Denis Glushakov (Lokomotiv Moscow), Marat Izmailov (Sporting Lisbon), Dmitri Kombarov (Spartak Moscow).
Forwards: Andrei Arshavin (Arsenal), Alexander Kerzhakov (Zenit St Petersburg), Roman Pavlyuchenko (Tottenham Hotspur/Lokomotiv Moscow), Alexander Kokorin (Dynamo Moscow), Pavel Pogrebnyak (Fulham)
History
Out of the darkness, the Soviets emerged, a force to be reckoned with. Led by the Black Spider, Lev Yashin, This was am odd Spider; he kept everything out of his net. Unlike other like-minded creatures who would wait and react should anything come close to them, the Black Spider charged his prey once he saw it coming. He revolutionized net minding. Yashin led his great team to a golden age for the Red Army, They swept all before them, picking up gold in the first European Championships and reaching the finals in 2 of the next 3 (with one being a semifinal exit determined by the toss of a coin). And then, they slipped back to the shadows. They recorded but one near success- silver in the Euros of 1988. 20 years later, a rosy checked Meerkat emerged to guide them close to the gold again. But the Red Fury were not to be defeated and cast aside the Russians 4-1 in the semifinals. But the Russians were certainly back again. Despite missing the world cups in 2006 and 2010, Russia qualified for the Euro 2012 topping Ireland and and Slovakia. And now, their time might finally have come again. The red army will go forth, once more for the Motherland.
The Team
In qualifying, the Russians went with a 4-4-1-1, with Arshavin sitting behind the striker. The Russians have a passion for Dutch Managers, Dick Advocaat being the latest man in charge. He has had several stints in important positions, including Holland, South Korea, Belgium, PSV, Rangers and Zenit. He has been with Russia since 2010. Expect Russia, who are ranked 11th in the world and 8th in Europe, to wear a Red home kit and a white away one.
Players of Mention
Arsenal Men
Forwards
Andrei Arshavin
From the dark and gloom of Leningrad emerged a little boy. A slight and slender child who only lit up when he could twist and dance past others. Yet, his talent remained hidden in Leningrad, now St. Petersburg. After disappointment and disappointment, the rosy checked boy, now a rosy checked captain, found his chance. With the whole world watching and expecting naught, the Meerkat began running and dancing and slipping around his confounded opponents. Arshavin, the star on center stage. A 15 million Euro show. Everyone clamored for his performance in their theater; pushing and fighting for his very name. At last, one man got the Meerkat to dress in Red and White and whisked him away from St. Petersburg to London. Here, Arshavin found his talent swept to the side. Yet, he still glowed with daring and pride. We all still remember his magic at Anfield. Encore! Encore! three times, you say? But, now our Meerkat began to fade. Not quite so swift; his glow hampered by faulting. But the genius was not hidden, the cunning, still there. Against Barcelona, he proved he still had some flair. But that was only a short respite. The fans began sneering and booing : Oh Arshavin, you're not doing it right. The Meerkat did not have his mind in London- he was off dreaming of going back for a stage quite Russian. The debacle with Manchester became the last straw. Our Red Meerkat became Our Red Goat. Zenit said they would take him back to St. Petersburg, at least for a while. There Arshavin found his place on the stage- right in the center where began his great career. An Era, not quite past, for with beloved Zenit in St. Petersburg, the Meerkat found his awards again. With his calling in Russia, don't hold your breath- he's not coming to London.
Key Players
Midfielders
Roman Shirokov
This midfielder has quite the bad reputation. He is looked at as the only poor player from the Russian 2008 Euro squad. He was largely blamed for the 4-1 defeat at the hands of Spain while he was playing CB. He was then dropped from the team. However, Shirokov has made a comeback, this time as the midfielder he wanted to be. Expect him to be a key part of the Russian transition, especially since Arshavin has gotten older. He has 21 caps with 4 goals.
Forwards
Andrei Arshavin
The captain with 17 goals in 70 appearances. See above.
Chances at Euro 2012
At the very least, Russia should get out of their very soft group. However, you never know with the Russians, and most of these games are going to be steeped with political history- not something on Russia's side. If they do get through the group, they can expect to find either Germany or Holland, both terrifying giants for the Russians. But they made an upset 4 years ago in this same round and they have a chance to repeat that . Their other possible opponents from Group B are the slightly more tame Denmark and Portugal. If Russia can claw through to the semifinals, they have a good chance of coming across a side they can reasonably beat, or Spain.
Matches to Watch
Russia vs. Poland
Russia vs. Czech Republic
Group of Formally Communist Countries and Greece Group A has quite a few matches that are heavily impacted by history. As two former satellites of the Soviet Union, Poland and the Czech Republic are going to want a bit of revenge.
Prediction
(Note, my predictions may start contradicting earlier ones at this point)
I think Russia is going to win the group. At the very least, I think they are going to get out into the knockout rounds. But against the giants of group B, Russia stands very little chance. Quarterfinal exit.
Last Post: Croatia
Next Post: Italy