Today, I will be moving on to Ireland. After Ireland, I will have completed a team from each group. I know I haven't done any of the teams with any real chance of winning this thing, but don't fear. They will come soon enough. I also know that I am a big late on this one. No matter how early I start typing and researching these things, I can't seem to get it done on time. I'll try and make it up tonight.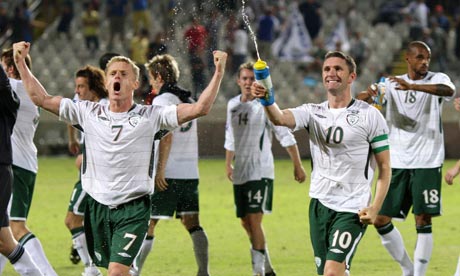 23-man Republic of Ireland Euro 2012 Squad:
Goalkeepers: Shay Given (Aston Villa), Keiren Westwood (Sunderland), David Forde (Millwall).
Defenders: John O'Shea (Sunderland), Richard Dunne (Aston Villa), Sean St Ledger (Leicester City), Stephen Ward (Wolves), Kevin Foley (Wolves), Stephen Kelly (Fulham), Darren O'Dea (Celtic).
Midfielders: Keith Andrews (West Brom), Glenn Whelan (Stoke), Darron Gibson (Everton), Damien Duff (Fulham), Aiden McGeady (S Moscow), Stephen Hunt (Wolves), Keith Fahey (Birmingham), James McClean (Sunderland).
Forwards: Robbie Keane (LA Galaxy), Kevin Doyle (Wolves), Shane Long, Simon Cox (both West Brom), Jonathan Walters (Stoke).
Group C
Spain
Italy
Ireland
Croatia
History
In a certain light, it's clear that Ireland lacks luck. They have only qualified twice for the Euros, this year and once in 1988. They have made it to the World Cup only three times, the last time in 2002. Ireland were extremely close to qualifying for South Africa 2010, however, they were (unfairly) denied by a few French handballs. However, in a different, light, the Irish certainly have had their luck. They were the first non-british team to beat England on English soil. When you account for the population and the size of the economy, Ireland are probably better than they should be. (See Soccernomics, chapter Tom Thumb for elaboration.)
To qualify for the Euros, Ireland had to get through a group B with Russia, Armenia, Slovakia, Macedonia and Andorra. It really came down for a race to first between Ireland and Russia, with Russia winning at 23 points, with Ireland a near second at 21 points. This left Ireland to qualify for the Euros through a two league qualifier. Ireland got extremely lucky and landed Estonia in their playoff match. They thrashed them, 5-1 aggregate with a 4-0 first leg and a 1-1 second leg that was effectively meaningless.
The Team
After a good bit of digging, I was able to find the lineups used during the playoffs and the qualifiers. Both times, it appears that Ireland played a 4-4-2. Granted, those matches were against the likes of Estonia and Armenia, but I think it's fair to expect that during the Euros. The current coach is Giovanni Trapattoni an Italian manager who has been with the Irish since 2008. Trapattoni has quite the resume, boasting the likes of Italy, both Milans, Juventus, Munich, and Stuttgart after 30 years in coaching. Ireland are ranked 18 in the World, 13 in Europe. This, of course, is crazy. The US is almost definitely better than Ireland, but is ranked a full 11 places behind (my proof is the fact that the US won their group during the 2010 World Cup while Ireland didn't even qualify).
Expect Ireland to where either their green home kits or their white and green away ones. The team has been nicknamed "The Boys in Green". How original.
Players of Mention
Arsenal Men
N/A
Key Players
Goalkeepers
Shay Given
I'm going to be frank here. I don't think Ireland stand most any chance. If Ireland get anywhere, it will likely be largely because of this man. Given(36) plays for Aston Villa. He joined the team this past season after leaving Manchester City. In Aston Villa, Given was the automatic first choice. However, he suffered a major injury that left the keeping in the capable hands of American Brad Guzan. Given eventually regained the number one keeping spot and closed out the season.
Midfield
How can you be named Ireland and not be Irish? Ireland could really use him.
Forwards
Robbie Keane
Keane is the captain of Ireland with 115 caps and 53 goals. That might be more impressive if Ireland played teams better than Estonia. Keane is 31 and plays with the LA Galaxy who acquired him last summer. He is the 11 top scorer in the Premier League with 126 goals, mostly with Tottenham, Recently, he went on loan to Aston Villa, where he scored 3 goals in 6 appearances. Last fall, he gave the assist for the goal that won MLS Cup (touted as the most expensive goal because it came through a play by the team's 3 Designated Players: Keane, Beckham, and Donovan). This season, Keane has been largely awful. His lack of sharpness in front of goal and throughout the pitch helped in allowing LA to be knocked out of the CONCACAF Champion's League by Toronto FC over 2 legs, a team that has started their season by losing all 9 games in a row. Currently, LA are at the bottom of the Western Conference with 11 points, good for 17th overall (19 teams). Keane will have to be better if Ireland want to succeed. Of interest, the name Keane is common for Irish athletes. One of the most well remembered Irish players ever was named Roy Keane.
Chances in Euro 2012
Ireland are one of those teams that normally stand very little chance in the Euros. That said, they have had some luck up until this point- they got Estonia in playoffs and their group is not the hardest. This group should be fairly simple with Spain and Italy cruising into the next round. But if one of the teams collapses, it's a fight between Croatia and Ireland. Ireland will need a good bit more luck and some strong defending, but they do have a shot at robbing some points from Italy and Spain. Spain famously lost in their opening round of the 2010 World Cup to Switzerland, while Italy fell to the US in a recent friendly. However, Croatia are another worry for the boys in green. The Croats are a surprisingly strong side, coming in at number 8 in the world. If Ireland can get through the group, they can expect to find either France or England. The other two choices of Ukraine and Sweden are more on their level and might be a fairer fight.
Matches to watch
I will say that I don't really think any of Ireland's group matches will be particularly interesting. If Ireland can get through the group and play France, then we have an interesting proposition.
Ireland vs. Croatia
This match will probably dictate who finishes with the better chance at getting second should one of the big teams stumble, but otherwise, this first round match of the group stage is a third place decider.
Prediction
I say the luck runs out here. Ireland go home after being burned out by some quality sides. To be honest, if group B wasn't so jam packed, this would be the group of death. Ireland, you're going home.
Last Post- Denmark
Next Post: Czech Republic