As promised, I am writing an extra amount to make up for lost time.
I bring you DENMARK. The Danes have released a list of 21 players, with an additional 2 showing up in national team camps. They are not definitely going to be called up but I believe that who ever is called up will be too much of a fringe player to really matter. Anyway, on to the preview.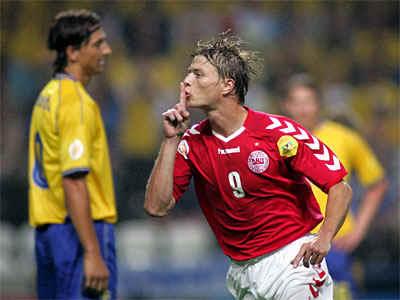 For the record, I wanted a picture of Danish food, but when my search returned some dubious photos (sushi? Come on!) I decided to play it safe.
Goalkeepers
Thomas Sorensen (Stoke), Stephan Andersen (Evian), Anders Lindegaard (Manchester United)
Defenders
Lars Jacobsen (FC Copenhagen), Michael Silberbauer (BSC Young Boys), Simon Busk Poulsen (AZ Alkmaar), Daniel Wass (Evian), Simon Kjaer (AS Roma) , Daniel Agger (Liverpool), Andreas Bjelland (FC Nordsjaelland)
Midfielders
William Kvist (Stuttgart), Christian Poulsen (Evian), Niki Zimling (Brugge), Jakob Poulsen (FC Midtjylland), Lasse Schone (Ajax), Christian Eriksen (Ajax), Michael Krohn-Dehli (Brondby) Thomas Kahlenberg (Evian)
Forwards
Dennis Rommedahl (Brondby), Tobias Mikkelsen (FC Nordsjaelland), Nicklas Bendtner (Sunderland)
Niklas Pedersen (forwards with Gronigan in Holland) and Jannik Vestergaard (Defender with Hoffenheim ) are also training with the team and could be called up to reach 23 players.
Denmark have been placed in group B, a.k.a., the Group of Death
Group B
Netherlands
Denmark
Germany
Portugal
History
Denmark have a meager history in the World Cup. They have only qualified 4 times, most recently in 2010. The best that they have ever reached are the quarterfinals. In 2010, they finished 3rd in their group of Japan, Holland, and Cameroon and were knocked out. The Scandinavians have had much more success in the Euro Championships with 7 appearances. They won it in 1992. Interestingly enough, they only qualified because Yugoslavia broke apart that year and was disqualified. Denmark squeaked into the final off the back of Peter Schmeichel (who saved a PK against legend Marco van Basten), goalkeeper and person of interest for Manchester United. In the final, they beat Germany, 2-0, thanks in large part to sublime goalkeeping. In order to qualify for Euro 2012, Denmark had to make it through a group H with Portugal, Norway, Iceland, and Cyprus. A relatively easy group, aside from Portugal. It was expected that the Danes would fight for second with Norway. Instead, Denmark won the group with 19 points, forcing Portugal to go to playoffs with only goal differential between them and Norway. Denmark had 6 wins, 1 draw, and 1 loss. The loss came to Portugal and the draw from Norway, both away.
The Team
Impressively, the coach, Morten Olsen, has been with the side since 2000. 12 years is a long time and he's got 2 more years at the reign. This Danish-man also had 102 starts with the national team back when he was a player. Talk about dedication to one's country. In their final match of qualification, the 2-1 decisive match against Portugal, Olsen played a 4-2-3-1, with Bendtner on top. Denmark are 10th in the World, 7th in Europe according to FIFA.
Players of Mention
Arsenal Men
Nicklas Bendtner
Despite going on loan to Sunderland and probably being sold this summer, Bendtner is still technically an Arsenal man. The Dane has a big amount of skill. The only problem is that his head is bigger. With Sunderland, Bendtner tied for the most goals for the team with 8 while playing 31 games. Those are good numbers. But they are not great numbers. Bendtner will almost certainly be in the starting 11 and he certainly can score goals, but I don't believe his absence would create a big dent in the team. However, Bendtner apparently does make big dents in cars.
Goalkeepers
Thomas Sorenson
At the age of 35, Sorenson is the oldest player on Denmark's team. Sorenson plays for Stoke. He has had over a decade of premier league experience, however, for much of this past year, he was the second keeper. That changed after the first keeper made a string of errors and lost his place. Sorenson took it up and finished out the season, aside from a concussion he received while playing against Everton. When Denmark won Euro 1992, they did it largely thanks to a string of brilliant performances in goal. I expect that Denmark will need that this year as well.
Defenders
Daniel Agger
Agger of Liverpool (alternatively known as Lolverpool) is the captain of Denmark. He is fairly good at Center back for Liverpool and the fans even made a song for him. I was able to calculate how many goals were scored on them by taking the number of goals scored and subtracting the goal differential. I found several things. One, ChaCha Answers sucks at providing simple soccer stats. Second, Liverpool are awful at scoring goals, with only 47 goals, or 1.24 goals a game. However, they are pretty good at defending with 40 goals a game and 1.05 goals allowed per game. For comparison's sake, Chelsea scored 65 goals (1.71) but allowed 48 (1.26). Everton scored 50 ( 1.32) while allowing 40 (like Liverpool). Chelsea finished 6th, Everton 7th and Liverpool, 8th with 12 and 4 points with the two teams directly ahead of them, respectively. The stats are probably slightly skewed by Liverpool crushing Chelsea when they were just shooting for the Champion's League final. This insinuates that Agger was doing something right. Keeping a team that is abjectly inept at scoring in the top ten as a defender is quite an achievement. If he can replicate that form for Denmark, expect a tough team to break down.
Midfielders
Christen Eriksen
The young Ajax man (21) is budding into quite the talent. He was the youngest player in the 2010 World Cup, playing in 2 matches. He was also named the 2011 Danish Young Player of the Year. With Ajax, he featured in 33 matches and scored 7 times. Pretty good for a midfielder. Ajax, of course, also won the Eredivisie these past two years, largely thanks to Eriksen. Eriksen was also extremely influential in the final qualifying match against Portugal that sealed an automatic berth to the Euros.
Chances in Euro 2012
It all comes down to how they do in the group of death. Group B could very well be the toughest group ever. Every team in it is in the top 10 rankings in the WORLD. Denmark certainly have talent- the demonstrated that in qualifying. If they can make it out of the group, they can be expected to go far. They would have to play one of the teams from group A, all of which they are higher in ranking. They will be playing either Poland, Russia, Greece, or the Czech Republic. This would be one of the better dark horse options to pick. Denmark might not have any big stars, but they certainly have a team.
Matches to Watch
It's the group of Death! Each of these matches will be worth watching!
Holland vs. Denmark
This is a replay of the first round of group play from the 2010 World Cup. Holland won that 2-0, though there was a bicycle goal-line clearance. Expect this to be interesting unless one of these sides has nothing to play for
Denmark vs. Portugal
This is a qualifying rematch. Portugal won the first match. But Denmark won the second, the one that truly decided who automatically went to the Euro's and who had to go through playoffs. This will be round three, winner take all.
Denmark vs. Germany
Group of Death! Plus, Germany is supposed to be entertaining.
Prediction
I think the Group of Death will consume Denmark. First round exit, but not without a fight (but maybe without points).
Last Post- England
Next Post: Ireland